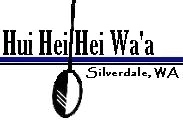 2023 Silverdale Sprints
Waterfront Park, Silverdale, WA
Saturday - June 3rd, 2023 - 8:00am a.m.
Directions:
Silverdale Waterfront Park, Silverdale WA Google Maps.
From SR-3 take the NW Newberry Hill Road exit and turn east (down the hill) towards the water
At the round-about take the 2nd exit onto Silverdale Way NW then turn right onto NW Byron Street
Canoe trailers and official's boat trailers - turn right at McConnell Ave into the boat launch parking and rigging area.
Parking:
There is a parking lot and plenty of street parking however, carpooling is advised. Please do not double park in the traffic circle as the Sherriff writes tickets when we do. Parking at the boat launch is for canoe trailers and safety boats only.
Race Fees:
Race fees per event: $36 per adult OC6 crew / $6 per keiki OC6 crew
Insurance fee: $4.15 per paddler covers liability premium to race all day
Please make checks payable to "HHW"; cash gladly accepted
Schedule:
7:00 a.m. - Registration in the gazebo
7:30 a.m. - Coach & steering meeting in the gazebo
8:00 a.m. - First OC-6 race (we shoot for this, but you know how it is)
Race Rules:
The Hui Heihei Wa'a Sprint Regatta is sanctioned by PNW-ORCA and insured by Paddlesport Risk Management, LLC (PRM)
Race rules and regulations are in accordance with PNW-ORCA and PRM
All paddlers must have signed waivers on file with PNW-ORCA releasing the host club and the association of liability
All paddlers or their guardians must also sign the PRM event waiver for that day; extra forms will be available on site
All canoes must be equipped with life vests, whistles, and weighed in accordance with PNW-ORCA rules
Each event starts approximately 5 minutes after the last canoe from the previous event reaches the beach
Race Events:
250 meter race course
Events may be combined wherever possible and appropriate to save time
No V1 events
Awards:
Ribbons awarded to top 3 finishers for Novice and all keiki events
Awards for the top 3 clubs in both divisions will be presented at the end of the day; AA (20+ events); A (19 or less events).
Special Notes:
Paddlers are recommended to wear adequate foot protection as the beach is tidal with rocks, barnacles, and broken shells
Cradles or tires to protect canoes are necessary
Tides: Low Tide at 11:55AM -2.49ft; High Tide at 7:02PM 12.07ft
DO NOT use stakes to secure tents or canopies (due to underground sprinkler system).
Contact: